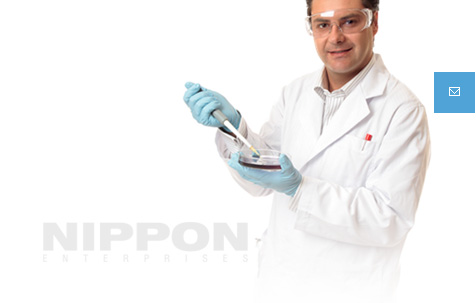 Nippon Enterprises is an industrial chemical trading company dealing with supply, distribution and sales of specialty chemicals in India since 1988. We offer our services to a wide range of business verticals like resin, paint and coatings, leather, PVC, textiles and many such manufacturing firms. We also deal in trading of indigenous and imported chemicals, bringing world class chemical products within easy reach of clients.
Our rich experience and expertise combined with impeccable service gives us a definite competitive edge. In-depth market knowledge with a solid network further enables us to procure any chemical our clients require, on demand. Over the years we have built a strong customer base and are the preferred partners for some of the leading companies in India like BASF India, Pidilite, Gargi Huttenes Albertus Pvt. Ltd. and Cray Valley.
The management duo of Mr. Naresh T. Shah and Mr. Jigar N. Shah form the guiding force behind Nippon Enterprises. The former, an industry veteran with an experience of over 28 years, and the latter, an enterprising young man who is actively involved in various social causes and networking communities.
Following is the list of Indigenous/Imported Chemicals we deal in:
Acrylic Acid, Adipic Acid, Acrylamide
Acetone, Butyl Acrylate Monomer,
Bis Phenol A, Butyl Acetate, Benzoic Acid,
Caprolactum, Cyclohexanone, CPW,
Di Butyl Phthalate,D C D A, Diacetone Alcohol,
Di Ethylene Glycole, Di Ethyl Phthalate,
Di Butyl Maleate, Di Octyle Maleate,
Diethylenetriamine (DETA),
Ethyl Acrylate Monomer, Ethyl Acetate,
Epichlorohydrine, Ethylenediamine,
Fumaric Acid,
Glycerine, Gum Rosin,
Iso Propyle Alcohole, ISO Butanol,
Liquid Paraffin,
Methyl Methacrylate Monomer,
Methyl Acrylate Acid, Maleic Anhydride,
Mono Ethylene Glycole, Melamine,
Methyelane Chloride,
M.I.B.K., M.E.K.,
Methylated Melamine & Urea Formal Dehyde Resin,
Neopentyl Glycol, N. Butanol, Naphthalene Crude,
Non Edible Oil, Castor Oil, S.E.G.N. Oil, Rice bran Oil
Octanol, Phthallic Anhydride, Pentaerythritol,
Paraformal Dehyde 91% / 96%, Phenol,
Rosin, Toluene, Urea, Xylene, TETA,
CM 1000,PEG 6000,PEG 4000,PEG 400.
Binder 9400 & Binder 4000.
For any enquiries, please contact:
Naresh Shah +91 98690 04608
Jigar Shah +91 98204 36464
Email at info@nipponindia.in
Snail mail:
101, Krishna Kunj- 3, Sarojini Naidu Road,
Tambe Nagar, Mulund West, Mumbai 400 080
Copyright © 2009. All Rights Reserved.